The Australian Science Communicators is the peak body for science communicators and science journalists in Australia. Established in 1994, the Australian Science Communicators has grown to a national network of more than 1650 subscribers and 450 financial members working in science and technology communication, including science journalists and writers, public information officers for academic and research organisations, scientists, museum professionals, science educators, science film-makers, and many other diverse professions united by the common theme of making science accessible. We are a not-for-profit organisation.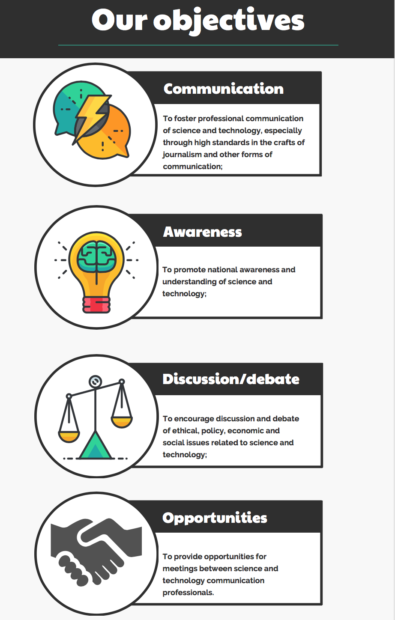 We work towards achieving these through:
An active email list of more than 1500 members and non-members working across the breadth of science communication in Australia;
Social media forums for members to network, share information, and discuss issues relating to the communication of and about science and technology;
State branch activities and meetings bringing local members together for networking, professional development, social activities, and discussions;
An annual national conference featuring plenaries, workshops, networking opportunities and social events;
A monthly online newsletter Scope featuring the latest news from the organisation and the world of science communication;
A competitive grants program to support members in professional development;
An annual award honouring the Unsung Hero of Science Communication;
A website bringing together online resources about science communication, from around Australia and the world.'
---
Executive
Who's Who
President: Lisa Bailey (president *at* asc.asn.au)
Dr Lisa Bailey has extensive experience working as a science communicator in cultural institutions both in South Australia and the UK, creating and curating varied science engagement programs of online content, events, film festivals and exhibitions.
Lisa graduated with a PhD in Biochemistry, before switching to a career in science communication.  She has worked at the Royal Institution of Great Britain, The Royal Institution of Australia as Program Manager, and is now the Senior Exhibition Manager at the Museum of Discovery at The University of South Australia.
Secretaries (Joint): Shiloh Gerrity and Michelle Riedlinge
Treasurer: Aidan Muirhead (treasurer *at* asc.asn.au)
Aidan recently joined National Computational Infrastructure (NCI) as Communications and Outreach Officer after more than seven years at Questacon in a variety of roles. She is former President of the ACT branch and a graduate of Science Communication at ANU.
Vice President (Joint): Lynette Plenderleith (vp *at* asc.asn.au)
Vice President (Joint): Teresa Belcher (vp *at* asc.asn.au)
Teresa is a science communicator with over 25 years' experience communicating science and engineering research and projects. Her initial university qualifications are biology, environmental science and environmental management, supplemented by a Masters in scientific communication from the ANU. She worked in Canberra, Switzerland and the UK for 17 years and is now back in her hometown of Perth. Teresa has a wide range of experience in corporate communication, public relations, journalism, web design and maintenance, new media, event management and training in both the public and private sectors. Teresa currently works as the Communications Manager for the Southern Metropolitan Regional Council managing the Recycle Right Education Program.
Committee Member: Dr Phil Dooley (secretary *at* asc.asn.au)
Phil is a science communicator for the ANU, and a freelance presenter of the 'Phil Up On Science' YouTube channel, with leanings towards astronomy and physics. As well as solo gigs on Pluto, climate change or purple grass, he MCs science nights such as the hugely popular Physics in the Pub nights for Australian Institute of Physics. He has also served as chair of the NSW and ACT branches of Australian Science Communicators.
Executive Officer: Kali Madden (office *at* asc.asn.au)
Kali has been immersed in all things sci-tech for 20 years or more, having had a blessed journey through industry IT, collaborative scientific research centres and not-for-profit industry associations. She has been involved in many satisfying projects include setting up a world class research facility; developing a benchmark national outreach program for collaborative research; creating and managing online communities, websites and digital spaces for teaching, training and professional development; and directing the last six transnational convergences for all those who make science accessible.
National Projects and Portfolios
Scope magazine: Cedric Bauer (editor *at* asc.asn.au)
Cedric's passion for learning and teaching STEM has provided him with many amazing opportunities over the years. He enjoys employment for a diverse spectrum of STEM-related industries and regularly gives back his free time to them, having logged so far, over 1276 volunteering hours across 14 different organisations.
As an aspiring secondary science teacher, he professionally engages; constantly reflecting on his approach to teaching and developing of educational resources (benefited by frequent collaboration with teachers and science communicators through Scitech where he works as a Presenter and the ASC).
ASC website editors: Ravindra Palavalli Nettimi (aka Ravi) and Jenn Cowman (web.editor *at* asc.asn.au)
Ravi is a Ph.D. student at Macquarie University. When he is not wondering about how ants navigate, he blogs, tweets, hosts a podcast, makes short videos, writes for popular science outlets (e.g.:  1, 2), and doodles to communicate his science.  He is passionate about teaching and has been involved in school outreach activities through STEM Professionals in Schools program (CSIRO). He is one of the recent recipients of the Outstanding outreach award from the NSW Office of Environment and Heritage/Ecological Society of Australia.
Jenn, originally from Canada, moved to the warmer shores of Australia in 2007 where she completed a Master of Applied Science (Marine Biology) at James Cook University. She has experience working in the research management and science communication space and has worked at James Cook University, The Australian National University and the Great Barrier Reef Marine Park Authority. Jenn, who has a wide range of communication and marketing experience ranging from writing, editing and publishing to graphic design, web maintenance and social media management, currently manages communications for a busy North Queensland children's charity and is a freelance science communicator in her spare time.
Webmaster: Alex Jurkiewicz (web *at* asc.asn.au)
Alex works in IT as a devops engineer, and helps keep ASC's computery stuff online.
---
Our history
The idea for a national organisation uniting science communicators and science journalists was sparked by a request for a conference paper.
In 1993, former ASC president (2005-07) Jenni Metcalfe was on a study tour in the US when she was invited to present a paper at the third international meeting of the Network for the Public Communication of Science and Technology in Montreal, summarising science communication activities in Australia.
Working with Toss Gascoigne (ASC president 2003-04), the pair quickly came to realise that the science communication community in Australia was very spread out, and many people that they spoke to expressed their frustration at being so isolated.
The email was just appearing over the horizon; science communication was an emerging profession; and with the exception of CSIRO, science communicators had few opportunities to network and exchange views. The time was ripe for an organisation that could bring this disparate community together.
There was so much enthusiasm for the idea that 375 individuals across Australia agreed to donate $25 to get the new body underway. In addition, a number of organisations – the Australian Academy of Science, CSIRO, the Institute of Engineers, the Defence Science and Technology Organisation, and the Department of Industry, Science and Technology – contributed seed funding and on 26 September 1994, the first meeting of the Australian Science Communicators was held. The decision was made that the organisation should be open to anyone interested in science communication – not just professional science writers – and Julian Cribb was elected the inaugural President of the Australian Science Communicators.
Past ASC Presidents
Craig Cormick (2016-18)
Joan Leach (2014-16)
Claire Harris (Acting, 2013-14)
Rod Lamberts (2012-13)
Jesse Shore (2010-12)
Tim Thwaites (2007-09)
Jenni Metcalfe (2005-07)
David Ellyard (2004-05)
Toss Gascoigne (2003-04)
Wilson da Silva (2001-03)
Robyn Williams AM (1998-2001)
Ian Lowe AO (1997-98)
Alison Leigh (1996-97)
Ian Anderson (1995-96)
Julian Cribb (1993-94)
---
Governance
The Australian Science Communicators is a national incorporated association consisting of state branches and governed by a National Council and National Executive.
The state branches are each governed by elected councils consisting of a President, Secretary, and Treasurer.
The National Council – which meets four times a year – is made up of the President, Immediate Past President, and a representative of each state branch.
The Executive – which meets six times a year – is made up of the elected President, two Vice-Presidents nominated by the President, a Treasurer and a Secretary.
The Australian Science Communicators' Annual General Meeting is held each year in November.
The Australian Science Communicators' Constitution was first adopted in 2003. It has since been amended in 2006, 2007, 2008, 2010, 2011, 2012, and 2015. ASC Constitution 2015
---
Contact us
Australian Science Communicators
ABN 88 745 029 974
Suite 23011
1 Mowla Dr
Ashmore QLD 4214
AUSTRALIA
All enquiries to: office@asc.asn.au (please note, the office is staffed on a part-time basis).