Date: Tuesday 20 April 2010
Location: The Clare, 421 Rathdowne St Carlton VIC 3053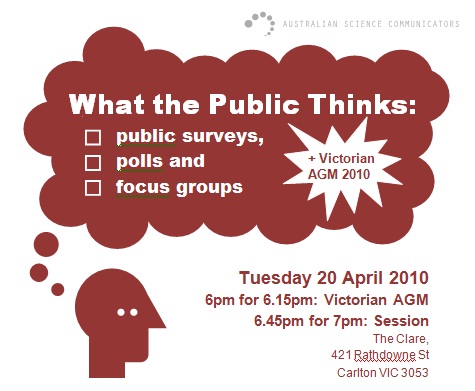 part 1: ASC Victorian Branch AGM
6pm for 6.15pm. Free drink for all members in attendance.
The Victorian branch is due for an annual general meeting to renew and refresh our committee. Please come along and so help to shape the ASC locally. We'd love more passionate communicators to get involved.
The Committee's main function is organising networking and professional development events for ASC members in Victoria. Often we invite speakers on current issues relating to science communication and it is an opportunity to share our thoughts and experiences in an informal atmosphere. We have had a range of speakers such as Fred Mendelsohn, Director of the Howard Florey Institute talking about the biochemistry of depression; Peter McGauran, the Federal Science Minister at the time; science comedians; science artists; museum exhibitors and more. Recent sessions have included:
Lawrence Krauss on The Physics of Star Trek
Scott Sampson on The Dinosaurs of West America
A designer, a publisher and a typographer discussing Brochures, banners and budgets. Oh my!
Our networking evening Science Centric at the three degrees bar and brewery
Current  committee positions and office bearers are:
–  President: Niall Byrne
–  Secretary & Treasurer: Jason Major
–  ASC national committee representative:  Meg Rive (not seeking re-election)
–  General committee members: L.E. Ohman, Ian Muchamore, James Hutson, Maia Sauren, and Laura Miles
part II: Polls and surveys what works?: Finding out what the public really think 6.45pm for 7pm.
We write for the general public, we talk to the general public. But who exactly are the general public? And how do we know what they think? Or even whether they are interested in science in the first place?
Join us for a discussion on public surveys, polls and focus groups.
How easy is it to conduct a survey? What can surveys reveal? And how can we use them to better direct our communication efforts.
Our panel includes a representative of polling company Roy Morgan, who will explain what's involved in creating and running a poll; and two users – one from state government, one from federal government – who will talk about their experiences in conducting large public surveys, what worked, what didn't and what people really think about science.
The speakers are:
Craig Cormick, Manager of Public Awareness for the federal government's National Enabling Technologies. Craig has used public surveys and focus groups to track community attitudes over time to biotechnology, genetically modified foods, cloning and more recently, nanotechnology. He is a regular spokesperson on public attitudes and has written several reports and books on the topic.
Wendy Williams, Manager of Science and Community for the Victorian Department of Innovation, Industry and Regional Development. Wendy coordinated a major study in 2007 on adult attitudes to science and technology and looked at whether attitudes to science mirrored attitudes to new applications of science and whether attitudes an indicator of behaviour?
Bruce Packard, National Customised Research Director for Roy Morgan Research. Roy Morgan is the company that can tell you exactly how many people read Cosmopolitan magazine, the Herald Sun or The Australian. They specialise in market research and public opinion surveys and cover all aspects of market research from personal interviews, to telephone, self-administered and the Internet. Bruce has undertaken a wide range of qualitative research for both public sector and private sector clients, ranging from in-depth interviews with indigenous leaders in remote communities in the Northern Territory to focus group discussions with gamblers in Melbourne. He currently looks after the company's social and government research.
Download the pdf poster for prominent public display at your work place.
Free for members.
$10 for non-members. $5 non- member students.
Meals and drinks at bar prices
(+ a free drink for members attending AGM!)
RSVP and enquiries:
Sarah Brooker sarah@scienceinpublic.com.au 0413 332 489