Feature Interview with Lisa Bailey, ASC President
Lisa Bailey reflects on her experiences working in Science Communication (SciCom)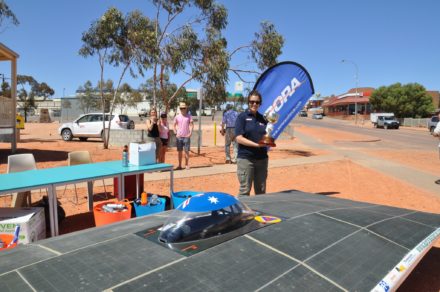 Where has SciCom taken you Lisa?
Weird places I didn't expect SciCom to take me – that time in 2011 when I was 5 months pregnant, in Coober Pedy with a solar car, holding 3.4kg of solid gold that is the Melbourne Cup (that was really a thing that happened – the Melbourne Cup was on tour and that coincided with our visit to Coober Pedy with the solar car challenge) (see image).
So why did you choose to study science?
I was one of those kids who was always interested in science. I was a teenager in the 90s, so I basically wanted to be Scully from the X-files.
Looking back now, what has been the best part of your career in SciComms?
The friends I made along the way…. really, I have worked with some amazing, funny and talented people. One of the things I'm really proud of is SCINEMA International Science Film Festival. I started producing that at The Royal Institution of Australiain 2016, and by 2018 it had grown to be one of the largest National Science Weekevents in the country, with over 500 screenings around the nation. I love it because it was designed specially to make it easy for anyone to take part in science week, and the range of films we were able to curate was always so varied.  
And where has your career led you?
All over! In the literal sense it's been wonderful in that I've had the opportunity to work both in the UK and Australia. I've been able to follow the World Solar Car Challengefrom Darwin to Adelaide, run SCINEMAin cinemas all over the country, been in the Prime Minister's Office at the PM's Science Prizes.
I started out doing a lot of public engagement programming – loads and loads of science events. So many. The last few years I've gone from science writing and film festival management, to teaching academic writing and teaching a University SciComm course, to Exhibition Manager at MOD at UniSA, a new museum in Adelaide.
What excites you most about your work?
I still love learning, and I think for any science communicator that's obviously a huge part of what you are doing – being able to dig in deep to a field or topic, or even just an individual study, to be able to parse the relevance for your target audience. I love being able to talk with researchers about their work, what excites them about it and how they hope it can make a difference in the world. That, and then seeing your program in action and someone 'getting it' – even if it's not for the reason you thought! I always use the story of a nanotechnology event I ran years ago now, where a truck driver had heard me speaking on the radio about the event that day and had driven several hundred k's to the event that evening. Afterwards he came up and thanked me, he enjoyed the event because his son was studying nanotechnology and he had no idea what it was, but now he felt he understood it a bit more and could have a conversation with his son about it.
What advice do you have for anyone considering a career in SciComms?
Join ASC! I have to say that as President, but honestly, I have found the network and personal friendships I've made through my involvement in ASCso beneficial. It really helps to be able to bounce ideas off people with a vast array of experiences in dealing with institutions, audiences, difficult topics, funding challenges. On a practical level it's also a great network through which to find jobs when they're shared through the list or Facebook group. I also say now that for anyone who is interested in science communication there's no reason to wait for it to be your paying job to get experience. There are so many avenues for students to gain experience in SciCom through programs like FameLab, Fresh Science, 3MTand all the other various avenues for developing your communication skills. Gaining experience through a range of avenues can prove to an employer that you do have what they're looking for, even if you're moving into SciCom from another field. If you've kept a food blog running, or managed social media for a club through uni, or set up your own podcast reviewing Netflix shows, it shows that you're familiar with the technology and the principles of scheduling, producing and building and nurturing an audience or community.
And lastly, what are some of your greatest challenges that you've overcome in your SciCom career?
It took me a while to value the skills that I brought to a workplace or project as a science communicator. Some things that we take for granted, like considering things from the audience perspective first, really are not the frame that organisations or academics bring! So understanding what I was good at, and how that adds value for the teams I work with, has been something I've only really started to understand properly in the last few years. I had a massive case of imposter syndrome when I was asked to start lecturing in Science Communication!
I think one of the other challenges has always been that gap between what you'd love to be able to do, or what you know is most likely to work, and the resources and funding you have available to make it happen. That's not unique to SciCom, it's common in any scientific endeavour really. And tight resources can lead to some really creative thinking.