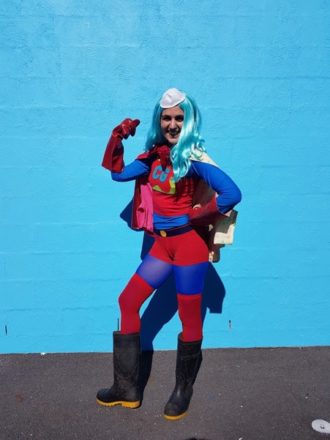 This month we speak with Lee Constable about her life and experiences in scicomm.
Lee Constable is the host of Scope, Network Ten's science and tech show for kids aged 7-13. Lee's background is a mixed bag with a Bachelor of Science (Honours), Bachelor of Arts and a Master of Science Communication Outreach. During her Masters, Lee toured remote and regional Australia as a Questacon Science Circus presenter and founded, produced and hosted youth-run social justice and sustainability radio show and podcast, SoapBox. Lee is the founder of Co-Lab: Science Meets Street Art where collaborations between scientists and street artists result in science-inspired murals that evolve live for the public. In 2018 Lee was part of the largest ever all-female expedition to Antarctica with 80 international women in STEMM as part of the Homeward Bound leadership program.
Why did you choose to study science? 
When I first enrolled to study science, I imagined that some day I could be the scientist to cure the Earth of climate change. That was a very naive reason to pursue science because when I got to uni I realised that data and solutions were not what was lacking in the equation at all.
Looking back now, what has been the best part of your career in SciComms?
I can't say I have far to look back because I am still very early in my scicomm career (or any career for that matter). I am 3.5 years out of my Master of Science Communication Outreach and 3 years of that have been spent hosting Scope so I would have to say landing the gig hosting Scope has been the best part! It has opened my eyes to an entire industry and skill set I never thought I could be so immersed in and I will be forever grateful for the opportunity!
Where has your career led you?
I have mixed science with live street art, podcasting, radio, cosplay, cartooning, blogging and more and loved every moment and mixture! My career so far has given me the absolute privilege of meeting passionate scientists and STEM experts, as well as fellow science communicators from all over Australia and learning from them. In 2018 I was part of the largest all-female expedition to Antarctica (with the Homeward Bound leadership program for women in STEMM) which was a truly amazing and life-changing experience, not just because of the place, but the people I met who are still an important part of my life.
What excites you most about your work?
I love that I have been able to work with people with an array of backgrounds completely unlike mine, like film, TV, YouTube and journalism, to bring science to life on screen in a way that is entertaining, accurate and accessible. Everyone has something to bring to the table which makes it a really exciting job. Every script, shoot and post-production phase brings different opportunities and challenges, so working with a diverse team to meet the challenges and make the most of opportunities on tight deadlines, with tiny budgets and a small team is really exciting! What a thrill!
What advice do you have for anyone considering a career in SciComms?
Think about what your motivations are for pursuing scicomm and whether there is a particular style of scicomm or audience you are most drawn to. Scicomm is so much broader than even us scicommers remember at times and there are so many ways and reasons to pursue a career in scicomm whether it's event management, marketing, PR, media, performance, writing, policy, art, corporate comms… the list goes on!
Don't forget that the scicomm work that you and fellow scicommers do is valuable and if you are pursuing scicomm as a freelance career, learn as much as you can about requesting and negotiating fees for your scicomm work. Scicommers do so much free labour which is admirable, but ultimately if you are doing scicomm because you need shelter and food, we need to take our field and skills seriously so scicomm is more valued all around!
What are some of your greatest challenges that you've overcome in your Sci-Com career? 
Being the face of a science show and the only one with a science background working on that show is a huge responsibility and one that I never take lightly. The nervousness and impostor syndrome and self-doubt have been huge challenges to overcome, particularly in the first year of presenting the show. Over the past 3 years hosting Scope I have worked really hard to build trust, and work with our team to make the show something I can be proud of and also to take the show and my presenting of science in directions that are authentic to who I am as a person, as well as (I hope) enjoyable for our audience. This type of role puts you in very vulnerable positions at times and navigating the various demands of my role (concept development, research, writing, presenting, producing, post-production etc), the industry, and the future I imagine for myself, have been massively challenging. I've learned a lot about myself and grown a lot as a person. That sounds cliché but it's the honest truth!
Image: Lee Constable dressed as Captain Garbology (She made this outfit originally as a Captain Planet costume but repurposed it!)