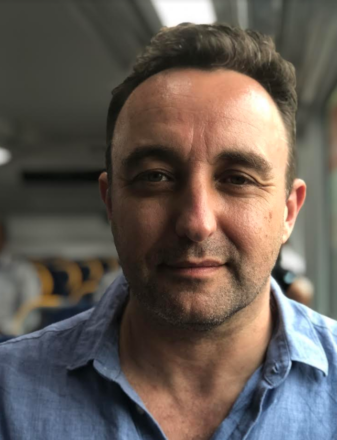 Why did you choose to study science?
In the early years of high school, I developed a vague idea that I wanted to be "a medical researcher". I loved the idea of working in a lab, helping find new treatments. On the other hand, I was also very keen on literature and writing, so my subject choices ended up being split evenly between sciences and humanities. I stuck to my guns at university and studied microbiology and immunology, although by the end of the undergraduate degree I realised that the ideas were much more interesting to me than the physical reality of working in a lab. So I quickly switched to science journalism — finding a way to be in the right place at the right time when a job at Today's Life Science came up.    


Looking back now, what has been the best part of your career in SciComm?

I've really enjoyed the variety of opportunies I've had as a science journalist — from feature writing to banging out daily news. Some of my favourite years were those I spent as a science columnist for the Financial Times' weekend magazine. My job each week was to write a 900-word column that would be interesting to the readers of the FT. I had complete liberty to select topics I thought were interesting, and took full opportunity to meet and interview all sorts of amazing people. As part of that job I interviewed Jane Goodall on two different occasions several years apart and found her to be utterly inspiring. 
Where has your career led you?

There are lots of ways to answer that question, but I'll go for the literal interpretation! I started my career in a fairly modest office in Chippendale, at a time when we only had access to the internet on one machine in the office, then moved to London and New York for a decade or so, before returning to Sydney where I now work for Springer Nature. I now lead a team of people in 7 different countries and travel fairly often to Japan, China, Egypt, the UK and the US.  
What excites you most about your work?

I've done my fair share of speaking truth to power, and reporting things people wanted to keep secret, but at my heart the best thing about the job of being a science journalist is talking to really interesting people about the amazing things they're discovering, and finding a way to articulate that wonder on the page/screen.
What advice do you have for anyone considering a career in SciComm?
I don't have any big revelations, but my experience as a freelance journalist for about a decade was that it was much easier to make a living from news writing than feature writing. Features are hard to sell and slow to produce, while if you can get a good line into an organisation that needs science news then they're always going to need more!