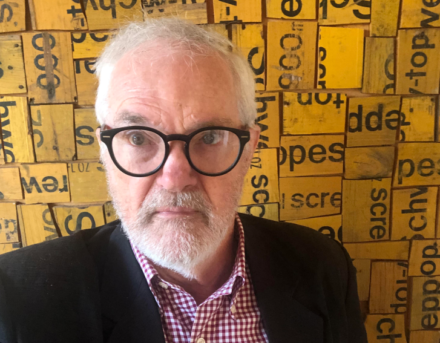 Toss Gascoigne shares us his SciComm Journey
How did you get into SciComm?
So I came into science communication not as a person with science qualifications, but as a former English teacher and freelance journalist, and joined CSIRO's Centre for Environmental Mechanics.  It's a fabulous building, lifts the spirits as you walk through the door.  My colleagues at other CSIRO divisions came with all sorts of qualifications and experiences: librarians, public relations, journalism, teaching, scientists looking for an alternative career.  Most of them had at least some science but my highest qualification was high school physics.  But I did bring a couple of books of press clippings, articles published in newspapers, and that seemed to intrigue the panel.  So I was appointed as an editor, a manifestly inadequate replacement for Will Steffan who went off to Sweden to do things in climate change.
Highlights
Getting media coverage for CSIRO work, like the 'Clever Clover' story that ended up selling 12,000 home kits to gardeners, and the launch of the Coastal Zone program where we had 6 TV camera crews on the banks of the Cooks River at Sydney Airport.  Media was fun, and I ended up training thousand of scientists in how to work with journalists in media skills workshops Jenni Metcalfe and I devised.  Going to my first international conference, PCST; and helping begin Australian Science Communicators, both in 1994 (25th anniversary this year!).
Where has your career led you?
Science communication took me from CSIRO to a more political role, as Director of the Federation of Australian Scientific and Technological Societies (now STA). FASTS was founded after Barry Jones accused scientists of being 'wimps' because they didn't give him the political support he needed to get adequate funding for science, but the organisation had been without a director for 18 months and was struggling.  So that was developing policy, talking to politicians and bureaucrats and eventually organising the event that saved FASTS: Science meets Parliament.  SmP has been picked up across Europe and in Canada as well, and celebrates its 20th anniversary this year.  Another successful Australian export.
What excited you most about your work?
Seeing the possibilities, trying new things.  I wasn't from science and didn't know where the boundaries lay, and the whole scene seemed full of opportunities.  We put up a speaker at the National Press Club in 1996, Ian Lowe. I only found out afterwards that he was the first scientist to have his NPC address televised nationally by ABC.  Since then there has been a steady troop of scientists and vice-chancellors using the NPC to reach national audiences.  On the international front, helping the PCST grow from its French-Spanish roots to become a truly international body which has held conferences in Brazil, India, Korea, Cape Town and Melbourne.  I was elected the first president in 2006.
I'm so encouraged when I walk into a conference or meeting in Australia, and barely know anyone.  Twenty five years it would have been so different, but now there are lots of new ideas, new approaches, new people involved.  Being a visiting fellow at the ANU's CPAS is great: there's a new idea every week.  And don't we need them!  PCST has opened up a lot for me, international collaborations and approaches.  I'm just finishing editing a book on the Emergence of Modern Science Communication, an international study of 40 different countries and with 125 authors, and due to be launched in Aberdeen next year.
The book includes countries like Pakistan, Iran, Nigeria, Jamaica, Russia and Colombia, and opens up a cornucopia of ideas. It's been a fabulous experience, and PCST made that possible.
Success in meeting challenges?
Showing scientists that they can deal successfully with the media.  Demonstrating through SmP that they do have a political role to play.  Devising excellent training courses and running them in 20 different countries.  Discovering that Australians can hold our heads high on the international communication stage. But what about the failures?  One is a constant battle to persuade managers that communication is important, not an after-thought to be tacked on at the end. A failure to get science and evidence a more important place in policy and decision-making processes.  How can any science communicator claim to be successful when we have Trump in the White House, Boris at Number 10, and a government of climate sceptics in Canberra?