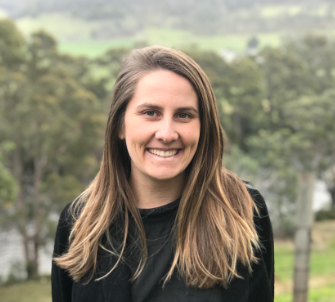 Why did you choose to study science?
Growing up in sunny Mildura played in a big part in my love of nature and the outdoors. We'd kayak, bike ride and swim in the summer and we'd go away every year to the Great Ocean Road. My Mum was a primary school teacher and she would often practice her experiments on my siblings and I first, before she'd take it into the classroom the next day. Pairing all that together, along with a very dedicated and supportive Year 12 biology teacher, I was off to study ecology and zoology at University.
Looking back now, what has been the best part of your career in SciComm?
I've got a couple of highlights. After Christmas one year, I worked with a polymer scientist and we took over CSIRO's Instagram account to follow the story of a Christmas bon bon toy called Polly Myrrh, who was having an identity crisis and wanted to find out where she'd come from. So we did various experiments to test what kind of plastic she was, and finally reunited her with her family (in the correct recycling bin). On a more personal level, a highlight was presenting my Masters research at the Waste Education Conference last year. I researched how the first season of the War on Waste had so much impact, and along the way found out that 'edutainment' is a new passion of mine. I'll be sharing the results at the ASC Conference in February.
Where has your career led you?
I've worked on a campaign to combat child labour in Fiji at Save the Children, published a story about how CSIRO scientists made the strongest material on earth (graphene) with soybeans, handled social media for scientists around Australia, written for the Australian Institute of Physics newsletter and helped increase the sightings of sawfish saws to help scientists identify past and future numbers of the species. Today I've moved into broader social change communication. I'm currently working as a Research Assistant on a project called 64 Ways of Being – which is like Pokémon Go, but for languages (stay tuned for the augmented reality app released in October 2020!). Alongside that, I am currently working as a communications consultant.
What excites you most about your work?
I love the potential that communication has to change the world for the better. My favourite process in any project is thinking about 'okay, so if we could change people's behaviour, what would that change in behaviour look like, and how can we use communication to make that happen?'. At the moment I'm interested in virtual reality, augmented reality and interactive games. These emerging technologies have so much potential to engage the public, to change their behaviour for the good.
What advice do you have for anyone considering a career in SciComm?
Take any opportunities you can. For me I offered to write an article with two PhD ecologists at my university about socially acceptable conservation planning. It was later published in the environmental magazine Decision Point with my name on it. That was my first ever published article, and went straight into my portfolio (and yes, you should buy a portfolio, I use this.)
I also worked in internal communication at CSIRO (which at the time wasn't in the 'direction' I wanted to head in because it wasn't science), but this experience really helped me realise that I loved designing campaigns that changed people's behaviour, regardless of whether it was science-related or not. Always take opportunities to broaden your skillset, because the worst that can happen is you don't like it, then you can tick that off the list and refine what you do want to do in the future.
What are some of the greatest challenges that you've overcome in your SciComm career?  
I used to say to myself that I could make any science story go viral if I tried hard enough. I still believe this today to some degree, but I've had to reign in my expectations a little. Sometimes this just isn't realistic, but also, sometimes getting a story to go viral may not even be the objective. I've learnt this through working with scientists who want to get the attention of a particular industry, appeal to fellow researchers in their field, or get their fellow employees to better understand their work. I've come to learn that science communication isn't always about the communication between the scientist and the public, it can be for many other audiences too.
The other challenge is to be realistic and take the time to acknowledge that you may have only been working in a job for three months, and maybe that's why you don't know everything yet. It's not because you're stupid, but it's because you're still learning, and that's okay. And the most important thing to remember is to be nice to yourself!