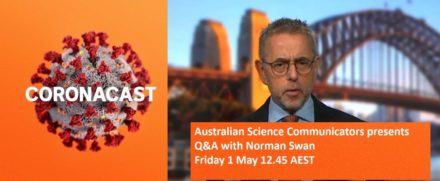 COVID-19 presents one of the largest science communication challenges ever, with rapidly evolving science, enormous social and economic impacts and a rising global death toll. Access to timely and trusted information is critical, and for a huge number of Australians Dr Norman Swan of the ABC has been one of the key respected journalists covering this through a range of media.
Join us for a Q&A with Dr Norman Swan to find out how he and the ABC team have been tackling the issues around communicating such a complex issue.
You can submit your questions in advance through your event registration, or submit through the zoom chat function during the session.
When: Friday 1 May, 12.45pm AEST
Where: Zoom Webinar
register at https://zoom.us/webinar/register/WN_qVEK_NP8Quu5dm3x90W0qw
*please note this event is available for current ASC members only, check your membership or sign up at http://www.asc.asn.au/join/