Join Now
The ASC Canberra committee aims to provide useful, thought-provoking and fun events, short courses and support to local ASC members. We also provide input to the national activities.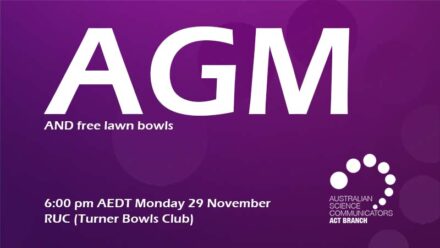 2021 AGM details
The 2021 AGM will be held at the Turner Bowls Club on Monday 29 November. Meeting is at 6pm, with social bowls to follow at 7pm.
The proposed agenda is available to view online via this Google Doc, which will be updated to reflect the final agenda ahead of the meeting. We ask all ASC ACT members to use this form to RSVP ahead of the event, and to submit their agenda items up until 21 November.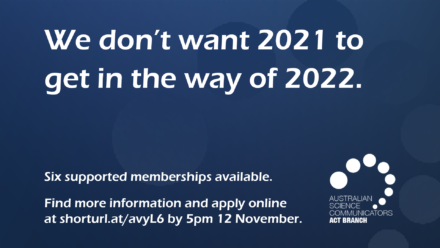 COVID-19 supported memberships
As a COVID-19 support package, ASC Canberra would like to offer six people financial support to join or continue their membership with the Australian Science Communicators for the 2022 calendar year, funded by the ACT Branch of ASC. Supported positions are available for people in these three categories:
students who will be studying in the ACT SciComm field during 2022
recent SciComm graduates who will be beginning their career journeys in the ACT during 2022, who graduated during 2020 or 2021
established practitioners in the ACT SciComm field, who may have
experienced income drops during 2020-21
Learn more information about this opportunity via this PDF document. To apply for this opportunity, submit your details via this application form.
Branch committee
The 2020-21 ACT branch committee is:
President – Jirana Boontanjai
Vice President – Tom Carruthers
Treasurer (Financial administrator) – Stuart McMillen
Secretary – Karina Judd
National Liaison Officer – Camille Thomson
Some of our popular events have included:
Cartoons, Science and Politics – Communicating Big Ideas
Regular networking nights with ASC members
The Science of Beer
Careers in Research: Is Australia producing too many PhDs? – Panel discussion
MayDay! Re-examing Canberra's deadliest plane crash – National Science Week
Producing great podcasts – workshop
Big Snapshot of Australian Science Engagement! (on behalf of national ASC project team)Clean Energy Future: Using market research to inform strategy
Communicating the "State of the environment"
Are you π-curious?
CSI vs Real Forensic Science
Science Communicators: where would science be without them?
Improving your writing: how to edit your own work
Coffee and Connections
Keep up to date with upcoming events:
We regularly email our members – make sure your details are up to date!
Contact us:
For more information on events, interest in joining our committee, or to suggest an event you would like to see run in the ACT, please email us at asccanberra@gmail.com – we always welcome your comments.