John Cook is the Climate Communication Fellow for the Global Change Institute at The University of Queensland. He created the website SkepticalScience.com, which won the 2011 Australian Museum Eureka Prize for the Advancement of Climate Change Knowledge.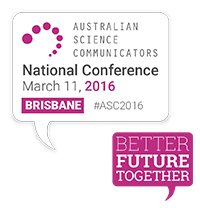 In 2013, he published a paper analysing the scientific consensus on climate change that gained worldwide media attention, being tweeted by President Barack Obama. The paper was awarded the best paper of 2013 published in Environmental Research Letters and is the most downloaded paper in the 80+ journals published by the Institute of Physics.
John will speak on a panel discussing "How do you understand and respond to people's rejection of science?" at the Australian Science Communicators conference in 2016. We spoke with John to find out more.
ASC: What do you think the main reason is for people to reject science?
JC: People are complicated so there are a variety of reasons why someone might reject a particular area of science. But a primary driver of science denial is when scientific evidence is perceived to threaten a person's values or ideology. Prominent examples are biological evolution threatening religious beliefs and human-caused climate change threatening political ideology (namely, support for free unregulated markets).
ASC: What is the most effective way to respond to this denial?
JC: Psychological research has found that presenting scientific evidence to people whose identity or beliefs are threatened by that evidence is ineffective, or can even be counterproductive. There are several possible solutions to this dilemma. One is the use of messengers who share the values of their audience, framing the science in a way that doesn't threaten their values. For example, a Christian scientist explaining the science of evolution to Christian audiences and explaining how science is not in conflict with their faith.
Another approach, which is the focus of my research, is inoculating people against misinformation. Ensuring that the undecided majority is less vulnerable to misinformation is arguably a more fruitful approach in stopping the spread of denial than trying to change the minds of a difficult-to-persuade minority.
ASC: Any comments you have about the conference in general or the ASC
JC: Science communication is essential in order for the public to make well-informed decisions. In turn, its crucial that science communicators take an evidence-based approach, heeding social science research when designing their messages.  Understanding the psychology of our audiences and how people update their beliefs in response to new information is crucial to effective science communication.
---
Interested in hearing more from John? He'll be at the ASC Conference 2016.