The Australian Science Communicators (ASC) WA-Branch is delighted to present Podcasting for Science Workshop on the 21 June 2018 from 3pm to 6pm in the Yellow Seminar Room (G25) at Physics at UWA.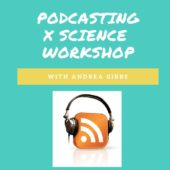 Podcasting is a highly accessible low cost medium for producing content that can be shared and engaged with online. The 3-hour workshop is an opportunity to learn the art of podcast creation, develop skills in storytelling and be guided through the production of your own short podcast.
Andrea Gibbs, presenter of Weekends with Andrea Gibbs on ABC Digital across Australia and co-founder of Barefaced stories will lead the first part of the workshop in storytelling and interviewing skill development. Science Communicator and Media Lecturer Miela Kolomaznik will lead the second part of the workshop in the technical skills of editing and publishing a podcast.
Podcasting for Science Workshop is sponsored by the Australian Science Communicators (ASC) WA-Branch, National Science Week and Inspiring Australia. Thanks to the support of these organisations there is no monetary fee for attending the workshop. However we ask that you be willing to share your podcast created in the workshop online via the National Science Week and ASC Website and related Social Media platforms.
To apply for the Podcasting for Science Workshop, please submit an application form to asc.events.wa@gmail.com by Sunday 10 June 2018. Spaces in the workshop are limited. Successful applicants will be advised via email no later than Thursday 14th June. For more information and queries, visit bit.ly/podcastingscience.