The ACT Branch of ASC continues its regular networking series and invites you to our next special event on Friday evening, 17th of October – Science, Cartoons and Politics – Communicating Big Ideas
Join Toss Gascoigne as he chats with three generations of Canberra-based cartoonists to discuss how they develop, draw and communicate big (and sometimes controversial) ideas through cartoons.
Panel features:
Stuart McMillen: Freelance cartoonist, specialising in long-form comics
David Pope: Canberra Times cartoonist
Geoff Pryor: Retired cartoonist, formerly with the Canberra Times
This event is free for ASC members and $10 for non-members. Free welcome drink and substantial snacks throughout the evening.
Please be sure to register at www.science-politics-cartoons.eventbrite.com.au (so we can cater accordingly)
TIME: 6pm for 6:30 start
DATE: Friday, 17 October
VENUE: The Whisky Room, Civic Pub, 8 Lonsdale St, Braddon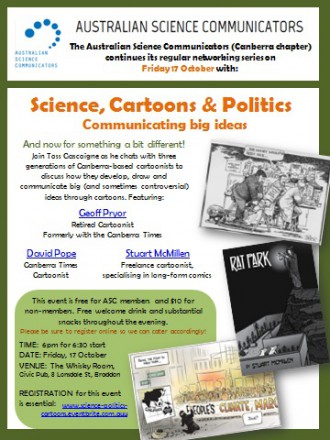 Post-event edit: an audio recording of this event, featuring the three cartoonists' slides is now available through YouTube.