Building bridges and dissolving boundaries in STEMM
– Dr Astha Singh and Akanksha Tiwary
With a quarter of its population born overseas, Australia is culturally and linguistically diverse. Inclusion and diversity are core of the identity and spirit of Australian society and its contemporary culture. However, this social diversity is not reflected in the composition of the country's STEMM (Science, Technology, Engineering, Mathematics and Medicine) workforce, which is currently still predominately the male gender. For a seemingly egalitarian nation, Australia's STEM workforce statistics are starkly contrasting.
Researchers and innovators from different backgrounds including (but not limited to) race/ethnicity, socio-economic status, gender, age, and abilities have contributed to numerous scientific and technological breakthroughs. Their distinctive backgrounds shape how they tend to perceive and resolve issues at the institutional, local, national, or international level. Thus, working in an environment laced with gender, cognitive, ethnic, and experiential diversity involves engaging with different perspectives that help develop a holistic understanding crucial for driving innovation. To create a sustainable shape the STEM-led future of Australia, its diverse workforce needs to be leveraged.
Storytelling as a tool
Astha Singh migrated to Australia for her PhD research and found that the male to female ratio was quite skewed within the faculty. She also found that it was rather challenging for international students coming from a different cultural and non-English speaking backgrounds to conduct high-quality research. This inspired Astha to continuously support and empower peers and colleagues especially from diverse backgrounds and to advocate for diversity in STEMM.
During the tenth national conference of the Australian Science Communicators (ASC 2018), an attempt was made to understand the existing impediments to full inclusion in STEMM fields. Rather than delving on graphs and statistics, the session took a unique turn, wherein the speakers narrated their unique and original stories. While graphs and statistics can be alarming, at times, it is through real-life stories that actions of lasting change are initiated.
The panellists, or rather the storytellers for this session were: Devanshi Seth, Principal Scientist, RPA Hospital and Clinical Associate Professor, Centenary Institute, University of Sydney; Dr Noushin Nasiri, Lecturer at School of Engineering, Macquarie University; Alfonso Ballestas-Barrientos, PhD Candidate, Laboratory of Advanced Catalysis for Sustainability, School of Chemistry, The University of Sydney and Dr Manoj Gupta, Research Fellow, Climate Change Cluster, University of Technology, Sydney.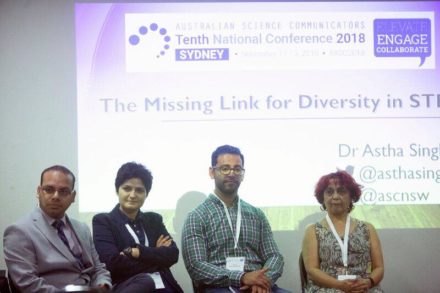 Finding the missing link
The speakers recounted their moments of inspiration, adversity, resilience, and of lasting transformation that helped them establish their personal and professional lives thousands of kilometres away from home. From a particle in Brownian motion, Devanshi Seth, in her own words, bloomed into a fruit-laden tree, making the most of her academic and industrial randomness through "Franklin Women". Now, comfortable in standing out, she urged the audience to make the most of their varied experiences by helping ease the socio-cultural transition of their colleagues. Devanshi is an active promoter of women in science and was the founding Chair of Gender Equity at Centenary and is on the Peer Advisory Committee for Franklin Women.
Noushin's  journey from a small city near the Caspian Sea in Iran taught her the importance of cultivating inclusion as a basic human right in STEMM circles. She continues to play her part in mingling with the Australian culture, urges colleagues to do the same and no let the self-perception dictate the direction of this journey. Noushin and Devanshi's stories revealed that brewing a strong work culture of humbleness and empathy will help engrave diversity – at all levels – in STEMM.
Alfonso Ballestas-Barrientos, travelled all the way from the Americas to Down-Under for his love for chemistry. Alfonso just as all other Venezuelans struggled to express his academic views that could be clearly understood by his audience. Living across a few oceans from his family, Alfonso had faced adversities on a personal level that had impacted his ability to excel at his work and learned a few life lessons that focussed on inclusion. In Alfonso's words, "Understanding of one's own culture and the culture of others with openness and flexibility will help make bridges between individuals, groups and nations".
Additional speaker and Climate Change Cluster researcher from UTS Manoj Gupta' s story described that culture-induced gender biases still dominate career choices across the globe. Women and underrepresented groups are associated with only certain roles. Socio-economic constraints and privileges significantly influence career choices. Pay disparity still exists amongst STEMM fields, creating the issue of financial stability and thus luring youngsters from developing nations to move from pure sciences towards engineering and technology roles.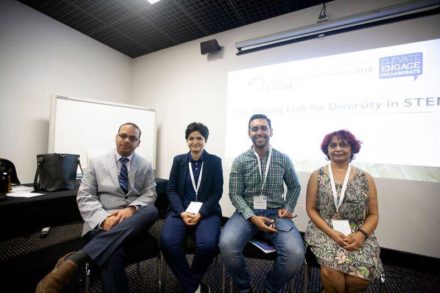 Cultivating a culture of acceptance and respect
For both the native and non-native audience, the impact of language barriers and cultural differences on an individual's social and professional identification became apparent. Through each of the stories, the importance of support groups and mentoring networks  in creating a welcoming environment was highlighted. This conversation prompted Jackie Randles (Manager, Inspiring Australia, the national STEMM engagement strategy) to comment "We are not just scientists; we are people. While we often talk about our work, it's time we talk more often about our stories."
Viewing these stories with an external greater perspective we need to consider how accepting we are of these diverse pools of talent in our STEMM societies and what steps are we taking to really implement diversity and inclusion. What steps are we taking to build a truly diverse professional world in the STEMM domain is a question to ponder deeply upon. Diversity and inclusion should not just be a topic to be ticked off in the professional environment at the Human Resources level but should be a conversation that keeps going on in a more personable and human level. Diversity and inclusiveness encompass acceptance and respect. It means understanding that each individual is unique, and celebrating what makes us different. In the digital era of dissolving boundaries, let's openly listen to each other, and as Noushin puts it, "be prepared to be amazed!"
References:
http://2018conf.asc.asn.au/the-missing-link-for-stem-diversity/
https://www.science.org.au/files/userfiles/support/reports-and-plans/2015/innovation-requires-global-engagement.pdf
https://www.industry.gov.au/sites/g/files/net3906/f/2018-10/performance-review-of-the-australian-innovation-science-and-research-system-isa.pdf
https://www.chiefscientist.gov.au/wp-content/uploads/Chapter-2-Demographics.pdf
https://scienceandtechnologyaustralia.org.au/reports-and-publications/
https://scienceandtechnologyaustralia.org.au/wp-content/uploads/2018/10/STA-Women-in-STEM-Decadal-Plan-Submission.pdf