The Australian Science Communicators is the peak body for science communicators and science journalists in Australia. Established in 1994, the Australian Science Communicators has grown to a national network of more than 1650 subscribers and 450 financial members working in science and technology communication, including science journalists and writers, public information officers for academic and research organisations, scientists, museum professionals, science educators, science film-makers, and many other diverse professions united by the common theme of making science accessible. We are a not-for-profit organisation.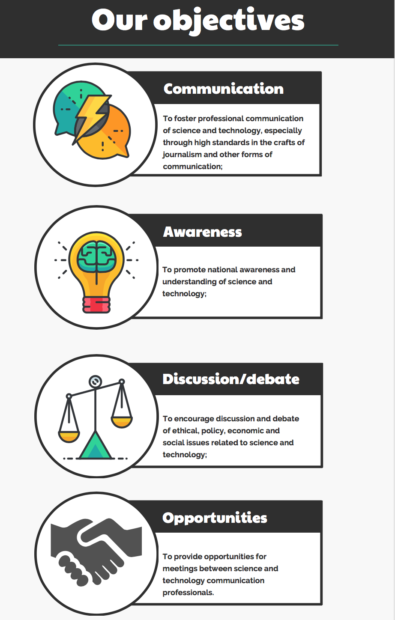 We work towards achieving these through:
An active email list of more than 1500 members and non-members working across the breadth of science communication in Australia;
Social media forums for members to network, share information, and discuss issues relating to the communication of and about science and technology;
State branch activities and meetings bringing local members together for networking, professional development, social activities, and discussions;
An annual national conference featuring plenaries, workshops, networking opportunities and social events;
A monthly online newsletter Scope featuring the latest news from the organisation and the world of science communication;
A competitive grants program to support members in professional development;
An annual award honouring the Unsung Hero of Science Communication;
A website bringing together online resources about science communication, from around Australia and the world.'
---
Who's who
Executive
National Projects and Portfolios
Scope magazine: Cedric Bauer and Emmaline Lear (editor *at* asc.asn.au)
Cedric's passion for learning and teaching science has taken him over the recent years into being increasingly involved with education and science communication programs. He regularly volunteers for a whole spectrum of science-related industries and for his fencing sporting community, where he's on the board as the communications officer and is also an acclaimed state champion and top national competitor.
He's currently sponsored by UWA for his fencing, where he's locked in to do a Masters in Education to become a high school teacher after completing he's Bachelor's degree in Biology & Science Communication.
Amongst some of his current jobs, he enjoys casual employment at Scitech and being self-employed as a Contract Carpenter. He also referees and directs tournaments for some State, UNI Games & National Competitions and provides weekly private lessons to his young protégé.
Emmaline brings a background in education, teaching English as a second language and applied linguistics to her current role at the Australian National Centre for the Public Awareness of Science (CPAS) at ANU. She works on the Professional Practice courses for Master of Engineering and Computer Science students. These courses align with Emmaline's current interests and the need for science communication skills in the 21st-century workplace to compliment technical ability so that professionals can perform effectively in the complex context in which they operate. Emmaline is looking forward to further contributing to the field of science communication in her role as SCOPE co-editor to keep ASC members in touch with current science communication issues. 
ASC website editors: Ravindra Palavalli Nettimi (aka Ravi) and Jenn Cowman (web.editor *at* asc.asn.au)
Ravi is a Ph.D. student at Macquarie University. When he is not wondering about how ants navigate, he blogs, tweets, hosts a podcast, makes short videos, writes for popular science outlets (e.g.:  1, 2), and doodles to communicate his science.  He is passionate about teaching and has been involved in school outreach activities through STEM Professionals in Schools program (CSIRO). He is one of the recent recipients of the Outstanding outreach award from the NSW Office of Environment and Heritage/Ecological Society of Australia.
Jenn, originally from Canada, moved to the warmer shores of Australia in 2007 where she completed a Master of Applied Science (Marine Biology) at James Cook University. She has experience working in the research management and science communication space and has worked at James Cook University, The Australian National University and the Great Barrier Reef Marine Park Authority. Jenn, who has a wide range of communication and marketing experience ranging from writing, editing and publishing to graphic design, web maintenance and social media management, currently manages communications for a busy North Queensland children's charity and is a freelance science communicator in her spare time.
ASC Grants program: Dr. Ian McDonald and Dr. Miriam Sullivan (grants *at* asc.asn.au)
Dr. Ian McDonald is a science communication professional who has a strong background in research, education and community engagement. He is currently employed as Communications Manager at the Centre for Invasive Species Solutions, where he leads the implementation of the center's communications strategy to promote a diverse array of research projects. He is completing his Masters of Science Communication with the Centre for the Public Awareness of Science (CPAS) (end of 2017) and is also a freelance science communication consultant.
Miriam Sullivan coordinates the Science Communication program at the University of Western Australia. She teaches undergraduate and postgraduate units on presentations skills, science shows, exhibition design and science communication theory. Her research looks at animal welfare, blogging and the professionalisation of science communication.
Facebook Group: Dr Dustin Welbourne (media.facebook.grp *at* asc.asn.au)
During the working day, Dustin Welbourne is an Associate Lecturer at the University of New South Wales. His research interests span biogeography, statistics, philosophy, and science communication. After work, Dustin participates in the Scientists in Schools program, writes and talks about science (to whoever will listen), and thinks up ways to spend more time scuba diving.
Twitter: Paula Lourie (media.twitter *at* asc.asn.au)
Paula is a communications professional. Starting out as a research scientist in Sydney, she moved through different roles in different countries and has a mix of academic, commercial and non-profit experience. She is passionate about working with talented people, creative ideas and continuously learning. Currently living in Perth, she is working on digital science engagement projects for Scitech, Western Australia's science discovery centre. She started managing the @auscicomm Twitter account in 2014 as a way to get practical experience in social media and knowledge of the Australian science communication scene.
LinkedIn: Kali Madden (office *at* asc.asn.au)
Webmaster: Alex Jurkiewicz (web *at* asc.asn.au)
Alex works in IT as a devops engineer, and helps keep ASC's computery stuff online.
---
Our history
The idea for a national organisation uniting science communicators and science journalists was sparked by a request for a conference paper.
In 1993, former ASC president (2005-07) Jenni Metcalfe was on a study tour in the US when she was invited to present a paper at the third international meeting of the Network for the Public Communication of Science and Technology in Montreal, summarising science communication activities in Australia.
Working with Toss Gascoigne (ASC president 2003-04), the pair quickly came to realise that the science communication community in Australia was very spread out, and many people that they spoke to expressed their frustration at being so isolated.
The email was just appearing over the horizon; science communication was an emerging profession; and with the exception of CSIRO, science communicators had few opportunities to network and exchange views. The time was ripe for an organisation that could bring this disparate community together.
There was so much enthusiasm for the idea that 375 individuals across Australia agreed to donate $25 to get the new body underway. In addition, a number of organisations – the Australian Academy of Science, CSIRO, the Institute of Engineers, the Defence Science and Technology Organisation, and the Department of Industry, Science and Technology – contributed seed funding and on 26 September 1994, the first meeting of the Australian Science Communicators was held. The decision was made that the organisation should be open to anyone interested in science communication – not just professional science writers – and Julian Cribb was elected the inaugural President of the Australian Science Communicators.
Past ASC Presidents
Immediate Past President: Joan Leach (2014-16)
Claire Harris (Acting, 2013-14)
Rod Lamberts (2012-13)
Jesse Shore (2010-12)
Tim Thwaites (2007-09)
Jenni Metcalfe (2005-07)
David Ellyard (2004-05)
Toss Gascoigne (2003-04)
Wilson da Silva (2001-03)
Robyn Williams (1998-2001)
Ian Lowe AO (1997-98)
Alison Leigh (1996-97)
Ian Anderson (1995-96)
Julian Cribb (1993-94)
---
Governance
The Australian Science Communicators is a national incorporated association consisting of state branches and governed by a National Council and National Executive.
The state branches are each governed by elected councils consisting of a President, Secretary, and Treasurer.
The National Council – which meets four times a year – is made up of the President, Immediate Past President, and a representative of each state branch.
The Executive – which meets six times a year – is made up of the elected President, two Vice-Presidents nominated by the President, a Treasurer and a Secretary.
The Australian Science Communicators' Annual General Meeting is held each year in November. Read our 2013 Annual Snapshot report.
The Australian Science Communicators' Constitution was first adopted in 2003. It has since been amended in 2006, 2007, 2008, 2010, 2011, 2012, and 2015. ASC Constitution 2015
---
Contact us
Australian Science Communicators
ABN 88 745 029 974
Suite 23011
1 Mowla Dr
Ashmore QLD 4214
AUSTRALIA
All enquiries to: office@asc.asn.au (please note, the office is staffed on a part-time basis).