Join Now
The Victorian committee is currently getting back up and running. Please reach out to copresidents@asc.asn.au if you are interested in supporting the steering committee leading up to a new committee for 2023.
The Victorian Committee of the ASC promotes and supports science communication by organising professional development and networking events for local ASC members.
We also assist members to develop and promote their own events, and maintain the Facebook group: Melbourne sci-com events and networking 
We invite knowledgeable and relevant professionals to speak on current issues relating to science communication.
If you have an upcoming event, or an idea for an event, please let us know.
ASC Victoria Current Committee (2019)
President/treasurer: Lynette Plenderleith (vic.president@asc.asn.au)
Secretary: Simon McKenzie-Nickson
State Rep: Jacqueline Bondell
General committee members:  Tom Lang, Claire Farrugia, Scott Daniel, Micaela Jemison
Upcoming Events
Australian Science Communicators – Victoria invites you to a screening of
"Stuck on a Rock" and a talk by invertebrate expert Rohan Cleave at LongPlay,
Fitzroy North, 27th May 2019.
Join us on a cinematic journey to the paradise that is Lord Howe Island and
hear the story of one of the rarest insect species on earth – the Lord Howe
Island Stick Insect.
Thought to have been eaten to extinction by rats in the early 1900s, the
massive phasmid was rediscovered on a remote volcanic stack, Balls Pyramid.
Scientists embarked on an adventure of conservation to prevent it from
disappearing again. Come and hear their stories in this beautiful film about
this remarkable and critically endangered animal.
From 6pm in the LongPlay cinema bar, with food and drink available for
purchase (one drink free with your ticket!). The presentation will start at 7:30,
followed by a question and answer session with Phasmid expert Rohan, who
can answer your questions about the insect and the making of the film.
ASC Members $10, Non-members $15. All tickets include entry to the event
and a free drink!
Tickets available at https://www.trybooking.com/BCKMG
You can join Australian Science Communicators at
http://www.asc.asn.au/join/
Questions? Please e-mail vic.president@asc.asn.au
Hope to see you there!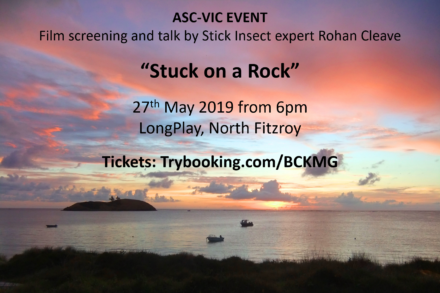 Previous Events
CERES behind the scenes and tour – Saturday 1 September 2018 at 10:30am

Join ASC-VIC for a behind-the-scenes look at CERES' sustainability education center and programs.
If you're not familiar with CERES, it's a non-profit urban farm and sustainability center in Brunswick. You may have been there to buy a coffee, some veggies, or some plants for your garden. Every year CERES hosts hundreds of school and public workshops on gardening, cultural studies, ecosystems, waste, and sustainable energy. They partner with "ResourceSmart Schools", guiding schools around victoria to become more sustainable and efficient. And the CERES EcoHouse is a 100% fossil-fuel free renovated home.
The tour meets at the front visitor area at 10.30, and runs for 1.5 hours. Please join us for a chat and coffee/lunch at the Merri Table afterwards (coffee/lunch not included in price).
While the tour is not suitable for children (it will be a bit dull for them), CERES has a playground, chickens, gardens, and is a very family friendly place to explore with your kids afterwards. Please arrange for a separate caregiver to supervise children while the tour is on. All are welcome at the Merri Table cafe afterwards.
Tickets: $5/ASC member or  $10/non-member https://www.trybooking.com/XLRK
The annual *Australian Science Communicators Pre-National Science Week Mixer 2018!*
Come and find out what's on for science week in Melbourne, catch up with other scientists and science communicators and maybe even nab yourself a door  prize!
*WHEN: Wednesday 8th of August, 6:00 – 9:30PM*
*WHERE: The Saloon Bar, The Clyde Hotel, Carlton *(https://www.theclydehotel.com.au/)
*FREE EVENT!* But please register at  https://www.trybooking.com/XGWR
Please get in touch with us (vic.president@asc.asn.au) if you are holding an event and want people to know about it, and of course come along to celebrate National Science Week in Victoria and meet other like-minded people engaged in science and science communication.
Orange-bellied Parrot film screening with Q&A
Fitzroy North, 16th July 2018 
Australian Science Communicators – Victoria is proud to announce an evening of documentary film and science. Join us, filmmaker David Neilson and conservation biologist Dr. Michael Magrath for a screening of the film "The desperate plight of the Orange-bellied Parrot".
Film screening
Question and answer session
Networking
Food and drink available for purchase
Learn about the natural history and conservation of these beautiful birds and the story of the scientists working tirelessly to save them. The species is on the brink of extinction – one of the rarest birds in the world – but rescue efforts are underway.
ASC Members $5 (includes a free drink!), Non-members $10.
Tickets available at https://www.trybooking.com/WNWD
You can join Australian Science Communicators at http://www.asc.asn.au/join/
The evening begins from 6pm in the LongPlay cinema bar, with food and drink available. The film will start at approximately 7 o'clock after a short introduction. After the film screening, ASC-VIC President Lynette Plenderleith will host a question and answer session with David Neilson and Michael Magrath, when you have the opportunity to ask questions about filmmaking and parrot conservation.
ASC Victoria AGM
It's that time of the year again, please below for details of our AGM. We look forward to seeing you there.
Where: The Shaw Davey Slum, 171-175 Elgin Street, Carlton, Melbourne 3053
When: November 30th, 2017 from 6pm for dinner – the AGM will start at 6:30 pm
What: ASC will buy you a free beer/wine for coming out to the AGM
Please come down, volunteer to join the committee if you want, and be part of our planning for 2018.
This AGM we will be running a Pecha Kucha (20 slides/20 seconds per slide) presentation series. Anyone can present anything – a research project, an idea about science communication, or anything related to science or sci-comm. If you are interested in presenting, please e-mail your 20 slides to george.aranda@deakin.edu.au no later than 28th November. If you have any questions about the format or topics suitable feel free to e-mail George about that too.
RSVP to Lynette Plenderleith (lynette.plenderleith@gmail.com) if you are joining us for the AGM.
Cheers,
Simon (secretary)
Victorian Branch AGM – Further Information
Only paid up ASC members can participate in the formal business parts of the evening, including electing Branch Committee. If you can't make it on the night, do send along a proxy so your voice is heard.
Meeting Agenda
·         Confirm minutes from 2016 AGM
·         President's report (Lynette Plenderleith)
·         Treasurer's report (Toni Stevens)
·         Nominations for 2018 committee
·         Other business
Branch Committee Positions
·         President
·         Representative on ASC National Executive
·         Secretary
·         Treasurer
·         Ordinary Committee Members
Nominating for committee positions
Nominations for committee positions are open. Self-nominations are acceptable.
The current Committee encourages new applications from ASC members who would like to get involved in shaping and leading activities and events.
Nominations for Branch Committee positions are encouraged in advance of the AGM (please send these to lynette.plenderleith@gmail.com). Nominations will also be accepted at the AGM.
Any ASC member based in Victoria can stand for a branch committee position.
Voting by proxy at the AGM
If you cannot attend the AGM you may wish to nominate a proxy, prior to the AGM.
Note proxy nominations cannot be accepted at the AGM. We require them to be emailed to Lynette by 12pm on 23rd of November 2017.
You can nominate any ASC member based in Victoria as your proxy, but you both need to be financial members of the ASC.
To nominate a proxy all you must do is send an email to lynette.plenderleith@gmail.com saying who you are, and which member you are giving your vote to, e.g.
Dear Lynette,
I'd like to assign my proxy vote for the ASC Victorian AGM to Joe Bloggs.
Best wishes,
Jane Doe
Pre-National Science Week mixer
National Science Week will soon be here (August 12 -20) and we'd like to celebrate with you all before it all kicks off with a Pre-National Science Week Mixer at Markov!
This is the forth year ASC Victoria has run this event – and we hope once again it will be a chance to mingle with event holders, catch up and hear all about what is happening in Victoria for science week.
When:Thursday 10th August, 2017, 6:00-9:00pm
Where:The Markov Bar, 350 Drummond St, Carlton (Back Bar)
$$:This event is FREE.
Who: Come on down and bring any interested people you know
Bring your friends and colleagues for an evening to get in the National Science Week mood, or just to have fun and meet other like-minded people engaged in science and science communication. We will be inviting science-minded people from all over Victoria, including Royal Society of Victoria, Melbourne Skeptics, Royal Society of Victoria, Laborastory Melbourne, University Science Societies and more.
Event-holders will be given the opportunity to briefly talk about their events and we will be giving away door prizes and National Science Week goodie-bags to create a fun networking experience.
Please register on Eventbrite and we will see you at the Markov on Thursday August 10! Any questions, please e-mail Lynette.
Best wishes,
Australian Science Communicators Victoria
Scicomm Masterclass
Melbournians!
Are you a scientist or academic who loves public speaking, but wants a few pointers?
Or does it scare the heck out of you, but you want to try it anyway?
You're in luck! The Australian Science Communicators are partnering with Laborastory (a monthly science talk in Melbourne) to offer a two-session workshop: Public Speaking for Scientists.
You'll work in a small group with two professional science communicators, Toni Stevens (Chief of staff at Science in Public), and Tom Lang (public educator and stand-up comedian).
The sessions will focus on practical writing and speaking techniques, with the aim to create a short, engaging, educational talk for a general audience.
After two sessions, we think you'll be ready to speak at Laborastory (if you want)!
The workshops are free, and available to ASC members only. They'll be held on the 24th and 31st of May, at 6.30pm, at RMIT in the CBD.
Places are strictly limited, so if you're interested, please email Tom Lang at langetc@gmail.com, with "Laborastory Workshop" in your subject line.
We hope to see you there!
Toni and Tom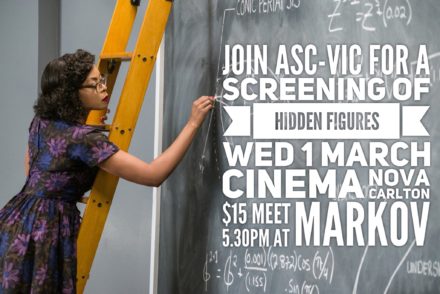 ASC-Vic is having our first event of the year!
Come along for a low-key networking night to see Hidden Figures – the incredible untold story of three brilliant African-American women working at NASA, who served as the brains behind one of the greatest operations in history.
Drinks and dinner will be at Markov, Carlton from 5.30pm.
Movie will start around 7.30pm at Cinema Nova, Carlton.
Movie tickets are $15. Members are discounted at $12.50.
We're looking to seeing everyone in the new year!
Tickets through Eventbrite. (NB: We aren't able to sell tickets on the night, so make sure you buy them early.)
Have you got an upcoming event to spruik as part of National Science Week? Or maybe you'd like to hear about the events happening in your area?

Join the Australian Science Communicators Victorian branch and other science-enthusiasts for an open mic and networking night. We'll open the floor to National Science Week event-holders who'll share what they've got planned for the big week ahead. There will also be door prizes up for grabs.

If you'd like to talk about your event in 1 minute on the night, please contact us via the link below. If you can't make it along, we'll be happy to show your promotional material.

The Wild Melbourne Journey – A case study in science communication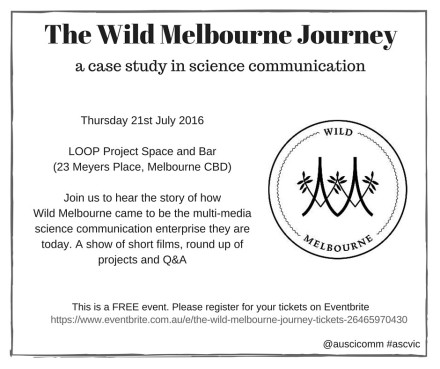 Register here and stay tuned for updates on the Facebook event page here.
You ask the questions…  turning the tables on the media on 27 June.
Join us on Monday 27 June to find out as the Australian Science Communicators, Royal Society of Victoria, and Science in Public team up to introduce you to our local Melbourne science (and science-interested) journalists.
We'll bring together a panel of working journalists from print, TV, and radio to tell us about what they do, and what they look for in a story.
The panel will give you an introduction to the needs and challenges of TV news, radio, and the daily press.
tables and ask them your questions.
This event is FREE, but you'll need to reserve your place via Eventbrite.
When: Monday 27 June – nibbles and networking from 6pm, forum to start at 6.30pm
Where: Royal Society of Victoria, 8 La Trobe St, Melbourne
Register at: https://www.eventbrite.com.au/e/meet-the-press-melbournes-science-journalists-tickets-25768278615
Movie Night – The Man Who Knew Infinity
11 May 2016, Kino Cinemas, Melbourne.
Join us on Wednesday 11 May at Kino Cinemas to get the know THE MAN WHO KNEW INFINITY. Starring Dev Patel (Slumdog Millionaire) and Jeremy Irons (Batman Vs Superman), it tells the life story of the extraordinary Indian mathematician and autodidact, Srinivasa Ramanujan. With no formal training in pure mathematics, he made extraordinary contributions to fields of mathematics, including mathematical analysis, number theory and infinite series. His life story was the inspiration for the academy award winning film, Good Will Hunting.
Prior to the screening we will hear from Dr Kevin Orrman-Rossiter, accomplished physicist, science historian, freelance science writer and reviewer.
As always, the cheap price includes popcorn.
Science Book a Day Celebrates 1000 Books
11 March 2016, Embiggen Books
ASC Movie Night – The Martian
15 Oct 2015, Kino Cinemas, Melbourne.
Come at 6pm for a drink and pre-movie speaker – the fascinating Dianne McGrath. Dianne is one of the shortlisted Mars One astronaut candidates from around the world. Mars One is a non-profit organisation seeking to establish the first permanent settlement on Mars.
The movie night will be on Thursday October 15 at Kino Cinemas on Collins St.
Pre National Science Week Mixer
13th Aug 2015, Markov, Carlton.
ASC Victoria kicked off the 2015 Pre National Science Week Mixer at Markov on August 13th, this time joined by international guest Yvette d'Entremont, aka SciBabe.
A quiet Wednesday Dinner
22nd July 2015, Artusi, Southbank.
A dinner hosted by ASC Vic Branch President George Aranda for visiting science communicator, Núria Elías at Artusi, Southbank
Sublime – Songs of Science, Metaphysics and Ecology
6th June 2015, Spotted Mallard, Brunswick
Melbourne singer, songwriter, science teacher and enthusiast Charlie Marshall presents a unique personal vision, 'Sublime – Songs of Science, Metaphysics and Ecology' on Saturday 6th June at The Spotted Mallard.
Science + Media Speed Dating
2nd June 2015,  Belgian Beer Café, Southbank
Are you a scientist? Get tips on how to sell your science, then practice your one-minute pitch on speed dates with journalists and science writers.
Are you a journalist? Get all your new science stories in one night.  In half an hour you'll hear 10 new science stories and meet a bunch of new talent.
Comedy Festival- Meat Bags
31st Mar 2015, Croft Institute, Melbourne
"Meatbags" is possibly the most scientific show at the Melbourne International Comedy Festival—and we've got a special ticket deal for ASC Vic members.
Movie Night – The Theory of Everything
Thursday 19 February, 6pm for 6:30 start at Kino Cinemas, 45 Collins Street. Tickets $15 including movie and popcorn available at: https://eventbrite.com.au/event/15450581104/
2014 Xmas Party and Victorian Branch AGM
24 November 2014, The Loop Bar
Workshop: Crowdsourcing information for humanitarian disaster responses
October 6, 6pm, for a 6:15 start – 7:30pm at The Meeting Room at the East Melbourne Library and Community Centre | 122 George Street East Melbourne 3002
Pre National Science Week Mixer: Open Mic Night
August 14 2014, 6:30pm at Markov, Carlton (350-352 Drummond Street, Carlton.
The Art of communicating science: from cartoons to photography
July 15 2014, 6pm at the Walter and Eliza Hall Institute, Melbourne, followed by dinner at Naughton's Parkville Hotel.
Science Technology & the Future Conference
Nov 30 – Dec 1 2013, plus pre-conference drinks on Nov 29
MOOCs in the pub – discussion panel
16 October 2013, Castle Hotel
Giants of Medicine
7 August 2013, The Wheeler Centre
Professionalisation of the ASC and Victorian Branch 2013 AGM 
4 June 2013, Embiggen Books
From Inspiring Australia, to National Science Week, to ASC-Victoria
12 February 2013, Graduate House
Festive Season Celebrations  & Science Comedy
11 December 2012, Embiggen Books & Three Degrees
Inside Nature's press office
19 November 2012, Spotswood Hotel
What role for two-way communication and community engagement in the process of science?
21 November 2012, Graduate House
Science Centric Science Week After-party
21 August 2012, Three Degrees
Evaluating Science Communication Workshop
18 June 2012, Graduate House
Shape the Future:  Branch AGM and the Big Picture
22 May 2012,  Embiggen Books
What do Victorians think about Science?
3 April 2012, Melbourne Museum
Building Healthy Community Engagement about Climate Change  ( Podcast Available )
6 March 2012, The Clare Bistro
Updated January 2015