Stories from the Interview Booth showcases some of the most interesting tales presented at the #ASC14 Conference Interview Booth. Thank you to Michelle Wheeler for sharing these stories!
Since being diagnosed with rheumatic heart disease at the age of seven, Carlisa Willika has had four major heart operations.
The 13-year-old has a mechanical heart valve, takes daily blood-thinning medication, requires penicillin injections every 28 days and can't play contact sport.
Sadly, rheumatic heart disease is preventable.
"It's a disease of poverty so in most developed countries it doesn't exist any more," RHD Australia communications officer Emmanuelle Clarke said.
"In Australia rheumatic heart disease is most common among Aboriginal and Torres Strait Islander people and unfortunately most of the cases occur in children between five and 14 years old."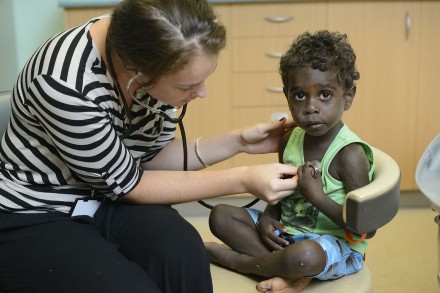 Pic credit: An RHD Australia doctor supporting rheumatic heart disease control programs – Emmanuelle Clarke.
Ms Clarke faces a tough job communicating information about a disease that affects almost no one in big cities and developed areas.
Doctors and nurses coming from urban areas can misdiagnose rheumatic heart disease and the fact that most sufferers live in remote communities presents a unique set of challenges.
Acute rheumatic fever is caused by the streptococcus bacteria and enters the body through skin sores or the throat.
Ms Clarke said people usually suffer from aches and swollen joints and the disease causes permanent damage to the valves of the heart.
"Once someone has had an episode of acute rheumatic fever, they usually get it again and again unless they receive penicillin injections every 28 days," she said.
"With each episode it causes more damage to the valves of the heart, which ends up being rheumatic heart disease."
Ms Clarke said the condition is linked to poor hygiene and overcrowding in houses.
She said rheumatic heart disease can halve a person's life expectancy and those dying were often young people in their most productive years.
"I've heard a story of a young man playing football in a remote community and dying in the middle of the football game due to a heart attack as a result of rheumatic heart disease," Ms Clarke said.
According to an Australian Institute of Health and Welfare report, 98 per cent of cases of acute rheumatic fever in the Northern Territory are in people of Aboriginal or Torres Strait Islander descent and 58 per cent occur in children between five and 14 years old.