To celebrate National Science Week 2014, the Queensland branch of ASC delved into the world of food and gazed into the future beyond food selfies, sous-vide, and fat-free fads.
Our host, Brisbane journalist Natalie Bochenski, led an entertaining discussion on the current trends in food production and consumption with the help of a panel of food experts—Dr Jaz Choi, A/Prof Jason Stokes, and Dr Joel Gilmore.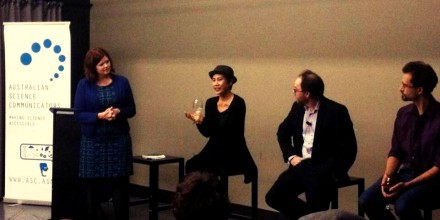 Trying to steer clear of the popular discussions around GM and fast food, we looked at the ways food shapes our society and how improvements in technology influence what, and how, we eat. Who would have thought there are researchers across the world working on ways to make sure manufactured food has a good 'mouthfeel'? (I.e. Doesn't feel like an old boot in your mouth).
A crowd of about 50 keen science communicators and enthusiasts attended the event at Iceworks Restaurant to eat, drink, and be merry. Thank you to everyone for making the science communication community in Brisbane so vibrant!
This event was supported by Inspiring Australia and National Science Week.