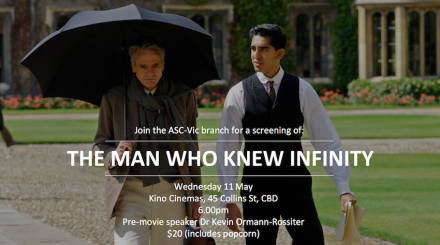 Join us on Wednesday 11 May at Kino Cinemas to get the know THE MAN WHO KNEW INFINITY. Starring Dev Patel (Slumdog Millionaire) and Jeremy Irons (Batman Vs Superman), it tells the life story of the extraordinary Indian mathematician and autodidact, Srinivasa Ramanujan. With no formal training in pure mathematics, he made extraordinary contributions to fields of mathematics, including mathematical analysis, number theory and infinite series. His life story was the inspiration for the academy award winning film, Good Will Hunting.
Prior to the screening we will hear from Dr Kevin Orrman-Rossiter, accomplished physicist, science historian, freelance science writer and reviewer.
As always, the cheap price includes popcorn.
Looking forward to seeing you all there.
When: Wednesday, 11 May 2016 from 6:00 PM to 9:00 PM (AEST)
Tickets: $20, including free popcorn
---