During a holiday to the UK and Paris, I couldn't resist including some science communication experiences among the many leisure activities.
I visited Phil Dooley, former president of the ASC NSW branch and Executive member at his workplace near Oxford. Phil is the News and Education Officer at JET (Joint European Torus), which is the shared fusion experiment run by the European Fusion Development Agreement. Phil is part of the team which communicates to various audiences the research involved in creating fusion events in a plasma.
Among his many duties Phil selects the picture and story of the week for the EFDA website. Phil showed me through the facility and we were able to walk around the world's largest tokamak as it was shut down for maintenance. My accompanying photo shows Phil dwarfed by the power array which heats the plasma. I contributed to the day by giving a talk to staff about two exhibitions I developed about nuclear science. This provoked a discussion about how to communicate this complex subject to a general public and the relative value of interactive displays.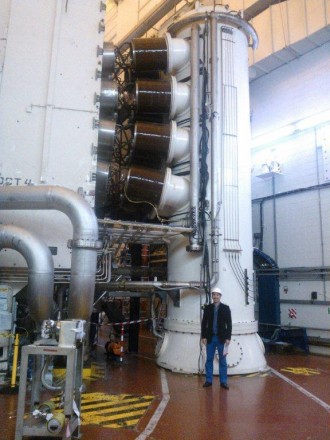 In London I talked with the Roland Jackson, CEO of the British Science Association, about the science communication initiatives of the BSA. We spent much of our time talking about Sciencewise, the UK's national centre for public dialogue in policy making involving science and technology issues.
I also had a general chat with Karen Bultitude, an Australian who is lecturer in Science Communication and Director of Research in the Department of Science and Technology Studies at the University College London. Karen is a mine of information about the active UK science communication area.
A couple of museum visits were noteworthy. The Wellcome Collection in Euston Road, London, stages artful and intriguing displays and is well worth a visit. Across the Channel in Paris, the Musee des Arts et Metiers features a great collection but displayed with a lack of context and engagement. The main exception is the automatons' theatre. The charm of these venerable mechanised robotic objects transcends the simplicity of the interpretation. I didn't stay for the demonstration but I'd expect it would be worth watching even though it's only in French.
Jesse Shore
ASC President