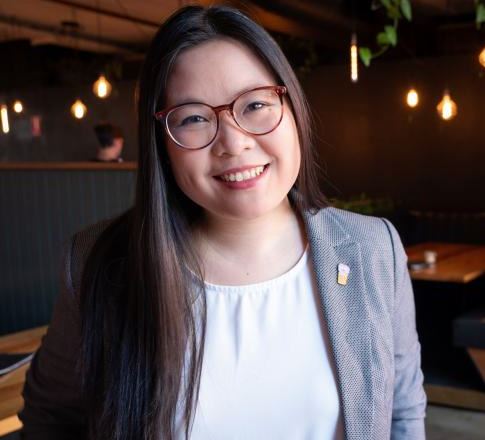 Why did you choose to study science?
Whilst growing up, I hadn't really thought of science as a career pathway, it was just my way of interacting with the world, asking 'Why?' whenever I could. I begged my parents for subscriptions to Australian Geographic, CSIRO's Double Helix and Scientriffic magazines where I'd enter every competition I could to win 'science' toys. However, I remember the exact moment I realised that 'maybe science is my 'thing'?'. It was after my grade 6 graduation, where I received the Science Award. At my school, science was taught in a composite science/art class once a fortnight and it didn't feel like science, it felt like art when compared to other subjects such as maths, which had its own allocated time daily. So to get an award for it, was surprising, and I must have really stood out as passionate about science. So from that point forward, I pursued science because someone told me I was good at it. When it came time to choose if I'd do a university degree, I was already drawn and immersed in science and doing better and more excited by the life sciences subjects so decided that I'd pursue that pathway. Having not grown up with any pets, I wanted to study zoology to become a Zookeeper, however my parents though I'd pigeonhole myself too early (they were soon to be right), so I compromised, and studied a double degree covering both Zoology and more broadly Biological Sciences.
Looking back now, what has been the best part of your career in SciComm?
Co-leading a team of volunteers to host Pint of Science across the nation for the last 4 years, where I've been recognised as an Emerging Leader by the Telstra Business Women's Awards is probably my stand out. I know that this role has meant a lot to many in pursuing their careers, and personal development and it's been great to be along for the journey to encourage and push them to success. This role has been a large part of my career and scicomm identity. I've learnt a lot, and grown a lot in the role, and having now handed it over to the next generation, there is a hole in my definition of self, that I'll be working to fill once I answer, 'What's Next?'.
Where has your career led you?
It's interesting to think about career pathways. While teaching financial literacy and life skill lessons to school children, there was a workshop where we talked about career progression and how the skills we learn in one job can help us secure the next job, like using stepping stones, there are many pathways but you choose the direction. I always think back to this and think back to my career and the stones that I've stepped and side stepped to get to where I am now and to where I'm heading. The community that the Questacon Science Circus and ASC has developed has helped. My volunteer work with Pint of Science greatly shaped and opened doors to diverse job opportunities. I was able to use this to help gain skills that I couldn't get in my paid roles and there have been jobs that I wouldn't have gotten if it wasn't for Pint of Science. I've been fortunate to work with some well-known organisations, and influential people through Questacon, Australian Academy of Science and the public service. I've still got a long way to go in my career, and I feel like my career is only starting.
What excites you most about your work?
As someone who is currently in-between jobs, and working in a field that I wouldn't define as science communication, but rather education, I get excited by the behavioural changes of my audiences, whether that be them learning something, finding training valuable, or just the excitement of an opportunity to learn. I get excitement out of a successful event, or an event where my customer doesn't realise something has gone wrong because to them it was flawless. I'm looking forward to my next science themed adventure with a few ideas that I've got brewing.
What advice do you have for anyone considering a career in SciComm?
Volunteer with Pint of Science? Haha! SciComm is a big field. Identifying what niche of scicomm you're interested by is valuable. Is it written, journalism, TV, do you want to raise awareness or appreciation of science etc. This might be best achieved by trying out different opportunities, talking to others or volunteering so you can test it out for yourself. Across Australia there are plenty of opportunities to volunteer, you could help run national science week events or test out one of your own ideas, the World Science Festival in Brisbane, Fresh Science to name a few. Most importantly, think about how you can turn it into a viable paid career, or are you ok to continue volunteering your time just for fun? Keep in mind, that you might not get there tomorrow or the next day, a career is something you continuously work on, and continuously evolves as you learn more about yourself and the world.
What are some of the greatest challenges that you've overcome in your SciComm career?
Balance. I don't think I've overcome this yet, but it's something I continuously work on. Balancing personal, work and career life. Do you keep them separate? Or do they overlap? How much overlap is too much overlap? Is it a conflict of interest or are you making use of your networks? I've been working to identify where my line is for doing scicomm as a career or as a hobby and probably like many at a similar stage in their career, it's a hard choice, and presently I'm working through it to see where I end up and what I'm passionate about next.