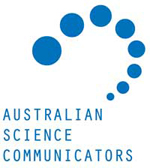 Our new Executive Committee members were elected at our 2022 Annual General Meeting in November this year. The Committee is responsible for managing all the ongoing strategic and operational needs of the ASC at a national level.

Please join us in welcoming the new team! They're excited to be leading you into the new year.

Dr Tom Carruthers and Jirana Boontanjai: Co-Presidents
Tom and Jirana are experienced science communicators and former Co-CEOs of Pint of Science Australia. Their professional experience spans education, government, non-profit and agency sectors.

As Co-Presidents, together they lead all strategic, operational and community engagement responsibilities for the ASC. This will be their second year in the role.

Dr Jen Martin: Vice President
Jen founded and leads the University of Melbourne's Science Communication Teaching Program and hosts the Let's Talk SciComm podcast. She also talks about science on radio, writes for a variety of publications and MCs events.

This is her second term in the role of Vice-President.

Cassandra Layne: Treasurer
Cassandra is part of the communications team at the Australian Academy of Science and a glass artist.

She took over the treasurer responsibilities earlier this year after former treasurer, Aiden, stepped down.

Ruby Stoios and Kate Bongiovanni: Co-Secretaries
Ruby is an aquatic ecologist and evolutionary biologist with an interest in science communication.

Kate is a science communicator and climate researcher investigating how volcanoes affect our climate.

Both Ruby and Kate are new to the role.

We'd also like to thank past Executive Committee members for their contributions:

Michelle Riedlinger – stood down as Secretary early in the year. We thank her for her contribution and continued advice and counsel.
Amy Chen – jumped in as Secretary for the year and has been a powerhouse of coordination. She stood down in November at the AGM. Thank you for your contribution and passion.
Aiden Muirhead – stood down as treasurer mid 2022. We thank her for her contribution to ensuring the strong financial position of the organisation.
Joh Howes – Vice President this year is standing down as she is moving overseas. We wish her all the best of luck in her future endeavours.
Lisa Bailey – Former President, who has provided a wealth of knowledge and support throughout the course of this year, and her continued advocacy.
And, of course, thank you to the many past members of the Executive Committee from previous years, who have all contributed to the success of ASC!